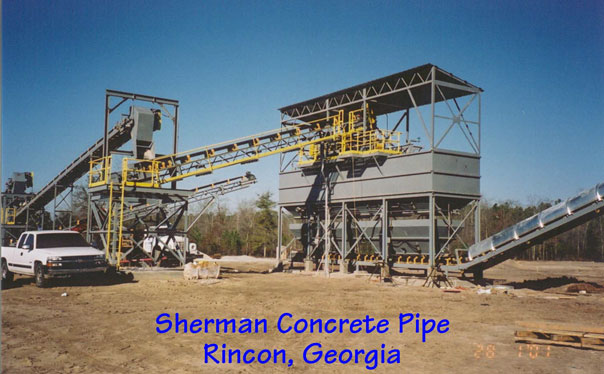 Sherman Concrete Pipe (today: Hanson Pipe & Precast)
Rincon, Georgia
2001
Click on a thumbnail to see the large photo.
The characteristics of the SIMEM Twin Shaft mixer allow for the production of very high slump to very low slump in the same mixer. This makes the mixer extremely suitable for a concrete pipe production plant where specialty components like manholes, risers and lids need to be manufactured as well. Sherman Concrete Pipe selected the SIMEM 3700 TS mixer for their (green field) new plant in Rincon.
Innoquip Design Group designed the plant to feed the new Hawkeye pipe production machinery. An unusual feature of the plant was the dual aggregate in-feed allowing for rail cars as well as dump trucks to deliver aggregates. A bypass to piled storage was designed in to accommodate the large volumes of aggregates when delivered by train.