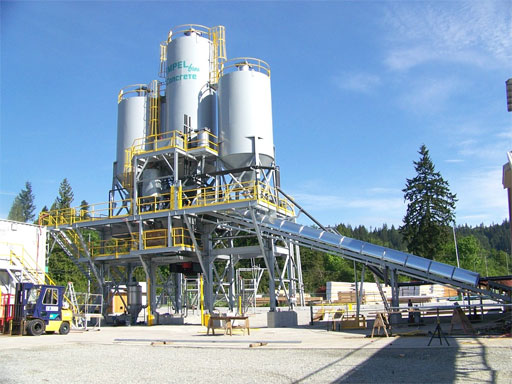 Rempel Bros. Concrete Ltd., Maple Ridge, British Columbia
2008
Click on a thumbnail to see the large photo.
Rempel Bros. Concrete involved Innoquip Design Group right from the first "fit for purpose" studies, prior to acquisition of the property. Due to the relatively small size of the property (2.4 acres) and the requirement to have this batch plant constructed as a drive-through plant, a generous amount of effort was spent on layout to achieve the most efficient materials handling, traffic and storage arrangement.
As loading mixer trucks in a dry batch plant (non pre-mix) from the side of the mixer truck often results in slow mixer drum charging, Innoquip designed this plant with an innovative offset loading arrangement. This feature mimics loading from the rear, does not slow the aggregates down after discharge from the conveyor and shortens total charging time.