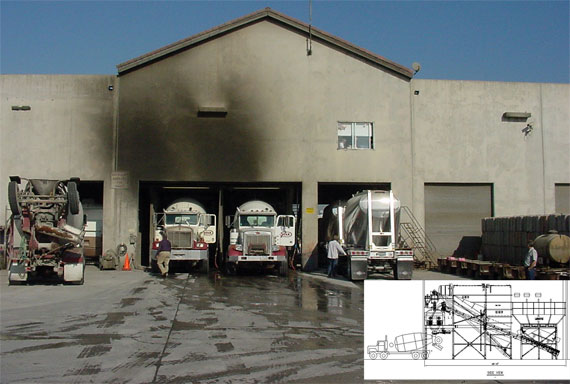 Star Concrete
San Jose, California
2002
Click on a thumbnail to see the large photo.
Star Concrete owner Jerry Blatt is always looking to stay on the sharp edge of technology. When he wanted to convert his dry batch plant to a dual lane, back-in, pre-mix plant, he chose to use SIMEM Twin Shaft mixers known for speed and mix quality. Scott Francis of Conroc Distribution and Besser San Antonio personnel decided to marry a Besser M12 aggregate batcher with a Simem MSO6000 Twin Shaft mixer. Innoquip Design Group was called upon to make this combination happen.
Additional design parameters were: The new plant will have to fit in the existing building without modifications to the building and every cubic inch of the building needs to be used to provide powder storage.
The result is quite impressive (see article under "MEDIA") especially when Star Concrete started to apply the flow-through method of mixing.